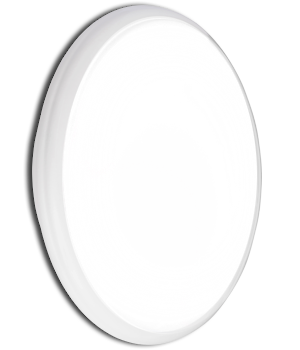 The Cygnet is a Ø420mm interior circular wall light with a depth of 117mm. The luminaire has a maximum lumen package of 2,800lm with a longevity of at least 50,000 hours.
The body is constructed from spun sheet steel and uses a polycarbonate opal diffuser. The bezel of the product also has a fixingless appearance due to the sub-assembly construction and flexible diffuser.
The Cygnet is targeted at large stairwells where wiring points are limited and therefore require a higher lumen output. Likewise the emergency output is higher than a normal luminaire of this type due to the 5W inverter and battery combination.
This product can also facilitate DALI dimming as well as DALI emergency options.