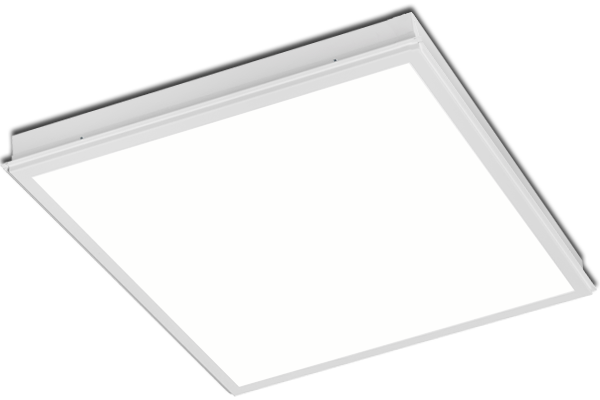 The Vox is a modular back lit luminaire designed with variable configurations to fit any SAS or Burgess Ceiling.
The Vox is supplied with the latest G2 Philips Fortimo LED and Philips Xitanium driver. This system carries a 5 year warranty with a longevity of at least 50,000 hours.
The luminaire is constructed from white powder coated steel and nanoptic printed polycarbonate diffuser – the product therefore comes as standard with (TPa) fire rating.
The Vox is targeted at the Design & Build 'fitout' market where there is a requirement for premium lighting quality to hit various pricing points.

TP(a) Fire Rated

'5 Year warranty'

50,000 hrs

Tegular version available
Type
Options
Code
Lumen Output*
3600lm
3700lm
3800lm
3900lm
4000lm
4100lm
4200lm
4300lm
4400lm
4500lm
4600lm
4700lm
4800lm
4900lm
5000lm
VOX/6/3600
VOX/6/3700
VOX/6/3800
VOX/6/3900
VOX/6/4000
VOX/6/4100
VOX/6/4200
VOX/6/4300
VOX/6/4400
VOX/6/4500
VOX/6/4600
VOX/6/4700
VOX/6/4800
VOX/6/4900
VOX/6/5000
Diffuser
Frosted
Prism
/F
/P
Colour Temperature
3000K
4000K
5000K
/3K
/4K
/5K
Ceiling System
**See Table Below**
/–
*Custom Lumen Outputs available upon request
Type
Options
Code
Air Handling
20 l/s
30 l/s
40 l/s
-A2
-A3
-A4
Tegulation
4mm Teg
8mm Teg
-4
-8
Dimming
DALI Dimming
-DA
Emergency
3 Hour Facility
3 Hour Self Test
3 Hour Central Test
-E1
-E2
-E3

More than 50,000 hours life span

Colour consistency with <3 SDCM

High end fabrication with
self-finishing materials

5 Year Warranty

Standard & Tegulated Frame Options
The Vox has many standard bezel options to allow the luminaire to integrate into any ceiling type including plasterboard. Features also include allowing for a drop tegulation below the ceiling plane to match various ceiling tile products. RAL colour can also be specified to allow the Vox to seamlessly match ceiling tile aesthetics.
Bespoke bezel options and luminaire sizes are also available upon request.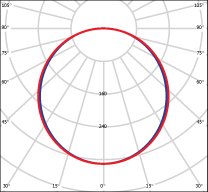 120° Beam Angle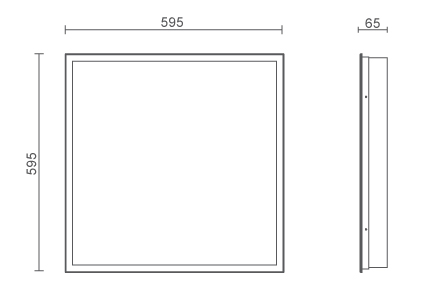 | Typical Lumen Outputs | Wattage | ll/cW |
| --- | --- | --- |
| 3702 lm | 34.0 W | 108.9 ll/cW |
| 4103 lm | 37.7 W | 108.9 ll/cW |
| | |
| --- | --- |
| Rated Supply Voltage | 220 – 240 V |
| AC Voltage Range | 202 – 250 V |
| Mains Frequency | 50/60 Hz |
| Output LF current ripple @ 120Hz (Flicker) | <4% |
| Overvoltage Protection | 320 V |
| THD | <20% |
| Dimming Range | 1 – 100% |
| Operating Temperature | -25… +60 °C |
| Colour Rendering | Ra>82 |
| UGR | <19 |
| Dimensions (Standard format) | 595 x 595 x 65mm |
| Weight | 3.9kg |
| Warranty | 5 Years |
| Certification | CE, ROHS |
| Lumen Output | BLF | Emergency Lumen Output |
| --- | --- | --- |
| 3702 lm | 15% | 555 lm |
| 4103 lm | 13% | 533 lm |
| | |
| --- | --- |
| Emergency Duration | 3 Hours |
| Recharge Period | 24 Hours |
| Battery Type | LiFePO4 (Lithium Iron Phosphate) |
| Battery Pack | 3 x 2.4V 2.5Ah |
| Parasitic Load | 1.2W |
| Operating Tempertaure | 0 – 60°C |
| Power Efficiency | 95% |
| Certification | CE, ROHS |
Manufacturer
Ceiling
Size
Code
SAS120
System 120
300 x 600mm
300 x 1200mm
500 x 500mm
600 x 600mm
600 x 1200mm
750 x 750mm
CS01
CS02
CS03
CS04
CS05
CS06
SAS130
Alugrid Q 15/19
500 x 500mm
600 x 600mm
750 x 750mm
CS07
CS08
CS09
SAS130
Alugrid Q 15/16
500 x 500mm
600 x 600mm
750 x 750mm
CS10
CS11
CS12
SAS130
Alugrid Q 26/16
500 x 500mm
600 x 600mm
750 x 750mm
CS13
CS14
CS15
SAS130
Alugrid Q 15/08
500 x 500mm
600 x 600mm
750 x 750mm
CS16
CS17
CS18
SAS130
Alugrid 15/16
500 x 500mm
600 x 600mm
750 x 750mm
CS19
CS20
CS21
SAS130
Alugrid S 15/19
500 x 500mm
600 x 600mm
750 x 750mm
CS22
CS23
CS24
SAS130
Alugrid P 15/16
500 x 500mm
600 x 600mm
750 x 750mm
CS25
CS26
CS27
SAS130
Alugrid P 15/08
500 x 500mm
600 x 600mm
750 x 750mm
CS28
CS29
CS30
SAS130
Trugrid T24
500 x 500mm
600 x 600mm
750 x 750mm
CS31
CS32
CS33
SAS130
Trugrid T15
500 x 500mm
600 x 600mm
750 x 750mm
CS34
CS35
CS36
SAS150
System 150
300 x 600mm
300 x 1200mm
500 x 500mm
600 x 600mm
600 x 1200mm
750 x 750mm
CS37
CS38
CS39
CS40
CS41
CS42
SAS330
System 330
Available Upon Request
CS–
*Other ceiling systems available upon request