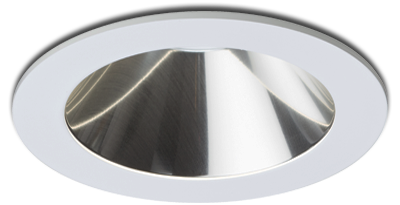 The Burst M (Mini) is a Ø103mm downlight aimed at low glare environments (UGR <19). The downlight only requires 60mm of ceiling void making it ideal for installations where space is tight. The Burst can achieve a lumen package of upto 960lm with a longevity of at least 50,000 hours.
The heatsink is made from die-cast aluminium which houses the LED module. The bezel of the downlight is machined from aluminium ensuring a constant high quality finish with no surface blemishes. The product is then retained in the ceiling by two screw arms which clamp the product to the ceiling. The bezel then twist locks on underneath the ceiling plane with no visible fixings.
The Burst M is available in 780 & 960 lumen outputs.

More than 50,000 hours life span

Colour consistency with <3 SDCM

Assured build quality with
die-cast based construction

5 Year Warranty
Type
Options
Code
Lumen Output
780lm
960lm
BUR/M/780
BUR/M/960
Colour Temperature
3000K
4000K
5000K
/3K
/4K
/5K
Beam Angle
36° Beam
60° Beam
/36
/60
Type
Options
Code
Dimming
DALI Dimming
-DA
Emergency
3 Hour Facility
3 Hour Self Test
3 Hour Central Test
-E1
-E2
-E3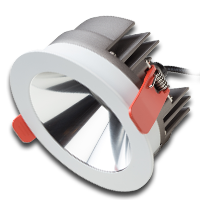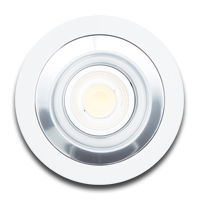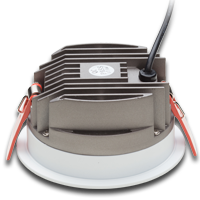 Performance & Reliability
Supplied with high performance CREE LED engine and premium Tridonic driver to ensure an outstanding performance with longevity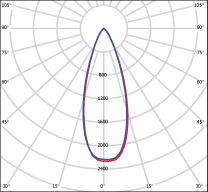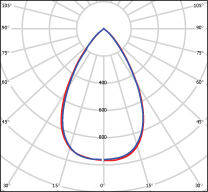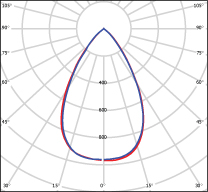 | Lumen Output | Wattage | ll/cW |
| --- | --- | --- |
| 776 lm | 8.0 W | 97.0 ll/cW |
| 958 lm | 10.1 W | 94.9 ll/cW |
| | |
| --- | --- |
| Rated Supply Voltage | 220 – 240 V |
| AC Voltage Range | 198 – 264 V |
| Mains Frequency | 50/60 Hz |
| Output LF current ripple @ 120Hz (Flicker) | <5% |
| Overvoltage Protection | 320 V |
| In-rush Current | 0.7 A |
| THD | <10% |
| Dimming Range | 15 – 100% |
| Operating Temperature | -25… +60 °C |
| Colour Rendering | Ra>82 |
| UGR | <16 |
| Cutout | Ø90mm |
| Dimensions | Ø103 x 58mm |
| Weight | 1.8kg |
| Warranty | 5 Years |
| Certification | CE, ROHS |
| Standard Lumen Output | BLF | Emergency Lumen Output |
| --- | --- | --- |
| 776 lm | 29% | 225 lm |
| 958 lm | 24% | 230 lm |
| | |
| --- | --- |
| Emergency Duration | 3 Hours |
| Recharge Period | 24 Hours |
| Battery Type | LiFePO4 (Lithium Iron Phosphate) |
| Battery Pack | 3 x 3.2V 1.5Ah |
| Parasitic Load | 1.2W |
| Operating Tempertaure | 0 – 60°C |
| Power Efficiency | 95% |
| Certification | CE, ROHS |